Back in 2007, haircare products predominantly fell in two categories; one that was designed to be used by professional hair technicians and the other group consisted of products that were available to purchase at your local superstore. This changed with the launch of Oribe Haircare in 2008. Each product was carefully crafted to deliver high performance when used by professionals or at home. Fast forwarding to 2018, Oribe is now an award-winning brand that has expanded into the makeup and skincare realms as well!
I had the opportunity to meet their International Educator, Mandee Tauber at the Oribe Masterclass in Bloomingdales at Dubai Mall. I really got to discover their range of products, from their amazing Powder Drops to their Imperial Blowout Transformative Styling Crème. One of the things that really attracted me to Oribe is the stunning packaging and beautiful look of every product.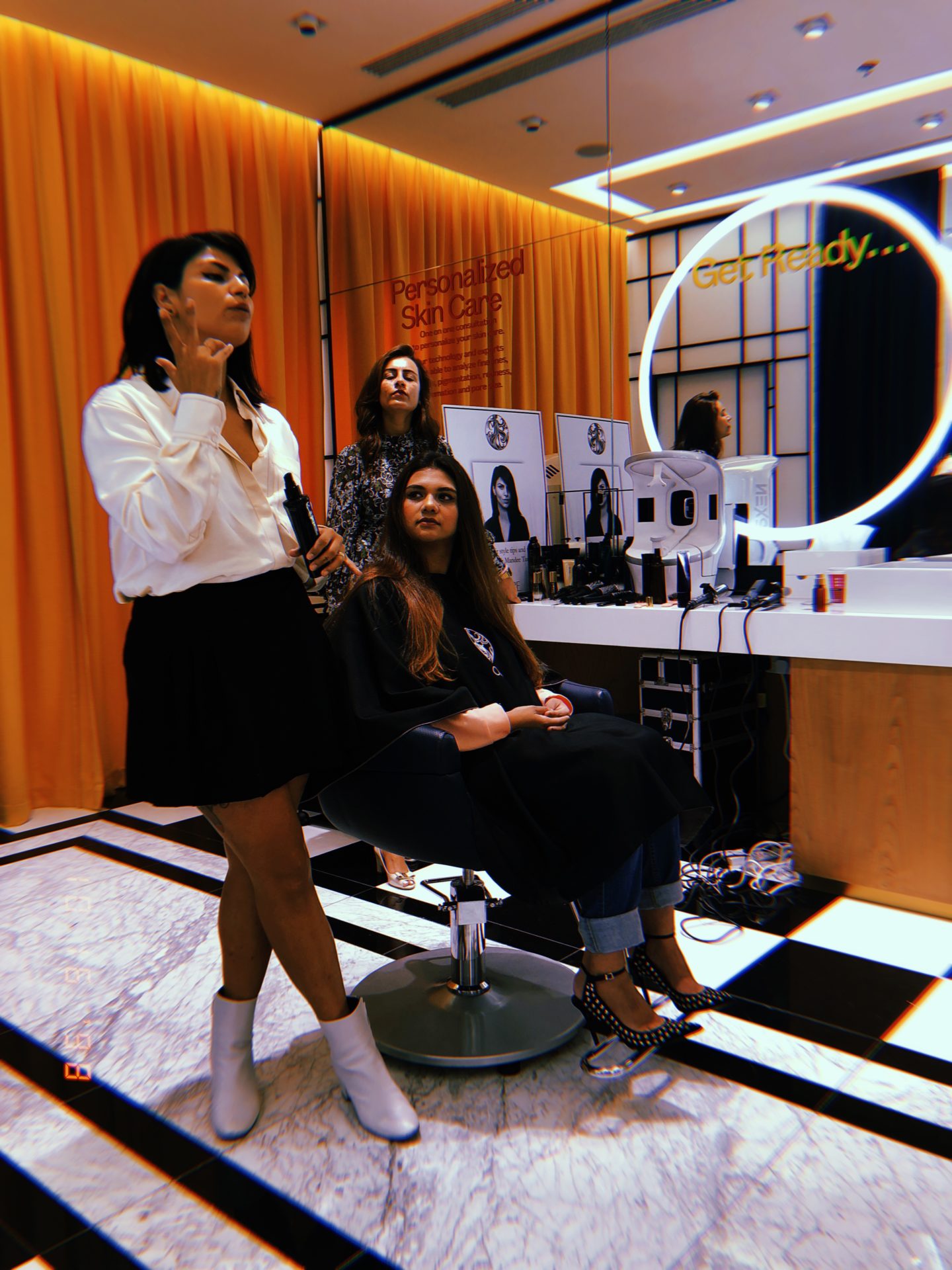 My experience with haircare products in the past has often yielded mixed results. Some work really well on my hair and others leave it worse off, I was keen to understand the reason behind this very issue. Mandee explained the importance of applying products correctly and more importantly, using the right products, the ones that work for yourhair! She also offered personalized styling tips and tricks at the Masterclass. I got to discover many products Oribe products and really understand the philosophy behind each product.
Oribe recently launched a collection of three highly concentrated hair serums known as the 'Power Drops'. I found these drops quite intriguing as they allowed for the creation of more personalized haircare. The Power Drop range consists of three products; the Damage Repair Booster, the Color Preservation Booster and the Hydration and Anti-pollution Booster. Mandee combined drops of these concentrated serums in the right proportion. This resulted in the production of a personalized serum that could be used to target specific hair issues. Upon application of the serum, she proceeded to style my hair as usual. I immediately noticed how it revived my hair and hydrated all the frayed ends.
I have been trying out one of their award-winning products, the Imperial Blowout Transformative Styling Crème (part of their Gold Lust range) for the past month. Let's just say that this item is now a part of my hair styling routine! This styling crème is lightweight and has a creamy texture that glides onto your hair so easily. It smells divine! I apply a pump-full amount of product onto my damp hair and then go on to style them with my Dyson Supersonic hairdryer as usual. What I really liked about this product is that it didn't make my hair look greasy. It added a healthy shine and volume to my beached and over-processed hair.
I was interested in trying out other products from their Gold Lust range like the Repair and Restore Shampoo and Conditioner. This duo combines oils of cypress, maracuja and argan with their bio-restorative technology to create a product that works on each individual strand – you can probably see why I wanted to give this a go! As you may know, I color my hair and get them keratin treated. Some products can affect the blonde color and reduce the longevity of the keratin treatment however, these Oribe products are safe to be used on hair who have had either of these done to them. I definitely wasn't disappointed as this product lived up to my expectation. Both the products, helped lock in the moisture and made my hair feel incredibly soft! I love this range and am looking forward to trying yet another product from the Gold Lust range, the Transformative Masque!
Oribe haircare has a product for every hair type. They've got a variety of ranges catering to everything from maintaining your blonde (with their Bright Blonde line) to adding volume (with their Magnificent Volume line) and everything in between. They can be purchased at Harrods and Space NK stores in the United Kingdom (UK) and at Bloomingdales and Harvey Nichols stores in the United Arab Emirates (UAE). In such a short time, it has turned into one of my favorite brands for haircare. Would love to know your go-to haircare product in the comments section below!